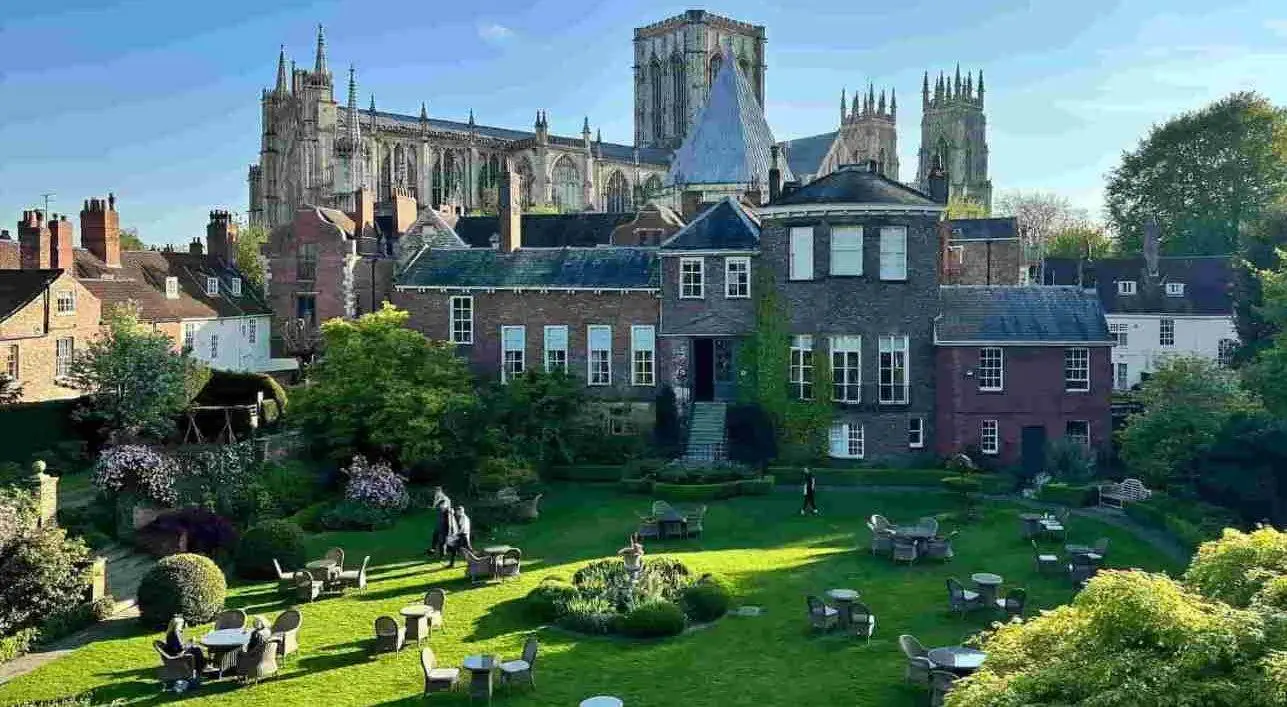 York is one of the most beautiful and historic cities in England. This means that as you explore York, you can expect to be surrounded by years of history at virtually every turn throughout the city.
This is no surprise, considering that even the name 'York' has undergone various changes, reflecting the influence of different civilisations. From the Romans who referred to it as 'Eboracum' to the Anglo-Saxons who called it 'Eoforwick', and eventually, as 'Jorvik' when the Vikings invaded. 
To learn more about this, check this out https://www.facebook.com/reel/1244576139500185
It is located in the Northeastern part of the country and stands as England's most visited city outside London. York's central location makes it an ideal base for exploring other fascinating destinations. With major cities like Manchester, Edinburgh, and London less than two hours away by train, you can easily visit other captivating towns and cities without much hassle. 
There are a lot of places to visit in York; join us as we unveil some must-visit destinations and experiences that make York a truly unforgettable city.
There are many ways to travel to York from different parts of England; you just have to choose which works best for you.
The nearest international airports to York are Leeds Bradford Airport and Manchester Airport. Once you arrive at either of these airports, you can easily reach York by train, bus, or taxi.
Travelling to York by train is a great option, with regular services provided by all major trains like LNER, Northern, TransPennine, and CrossCountry from cities across the United Kingdom. What's more, the train station in York is within walking distance of the city centre, allowing for a seamless transition from rail to exploring the city!
You can book your train tickets with Trainline.
Bus travel is an affordable option, and it allows you to enjoy the scenic beauty of the countryside during your journey. National Express and Megabus are popular services that offer convenient connections to York from various cities in the UK. Timetables and ticket information can be obtained through the respective bus service providers.
For those who prefer the flexibility of a road trip, reaching York by car is your best bet. The journey to York is relatively short and convenient from nearby cities like Leeds, Manchester, and Newcastle. It's important to note that parking within the city centre can be limited and expensive, so it's advisable to utilise public car parks located on the outskirts of the city.
There are various transportation options to choose from when exploring York. If you prefer personalised travel, taxis are available. For a more budget-friendly option, you can use the local bus network or opt for cycling.
However, walking is highly recommended if you truly want to experience the city. Not only are major York attractions like York Minster, the historic Shambles, and the city walls within a short walking distance from the city centre, but it also allows you to fully immerse yourself in the unique atmosphere, history, and culture of York.
Price- £13 for adults, an extra £5 to climb Tower.
Located right at the centre of York is the stunning York Minster, the largest Gothic cathedral in Northern Europe.  A trip to York would be incomplete without experiencing this iconic masterpiece. It is, in fact, one of the top things to see in York. A guided tour is available to help you learn more and truly appreciate this incredible structure's history and significance. Additionally, don't miss the opportunity to go up the Tower for a panoramic view of York! (Splendid).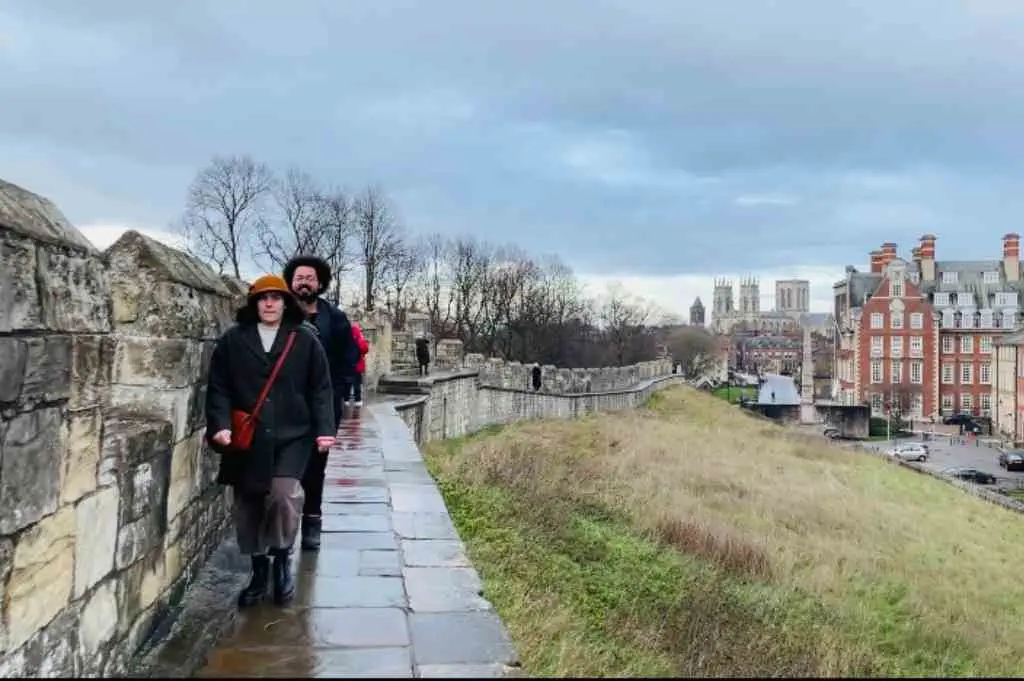 Price- Free
The York City Walls hold centuries of historical significance, initially built by the Romans in 71 AD and have been standing ever since. They are the most complete in England, meaning you will find more intact city walls in York. These well-preserved walls offer scenic views of the city and are a great place to take a leisurely walk.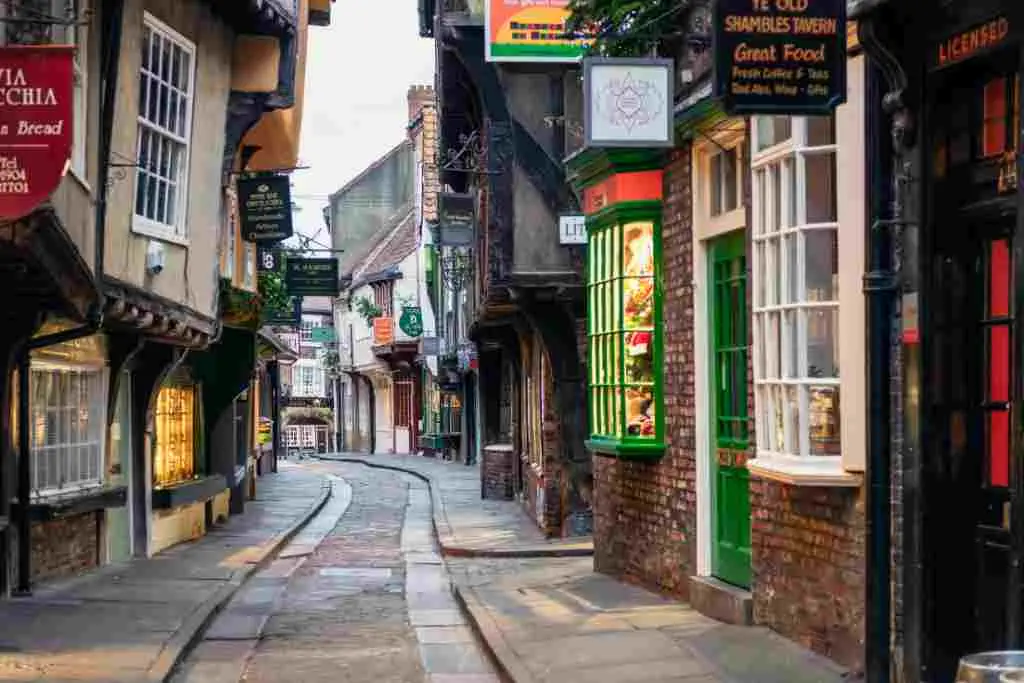 Price- Free
This narrow, cobbled street is lined with timber-framed buildings dating back to the 14th century. Historically, The Shambles was a bustling meat market street, but today it is a popular shopping area with various independent shops and cafes.
Price- Free
York Museum Gardens is a hidden gem in the heart of York, located on the north bank of the River Ouse, just outside the city walls. The gardens have several benches and picnic tables, so you can relax and enjoy the scenery.  It is open from 9 am to 6 pm, 7 days a week.
Also, the gardens are home to the Yorkshire Museum, which has a collection of over 1 million objects, including fossils, dinosaur skeletons, and artefacts from Roman York.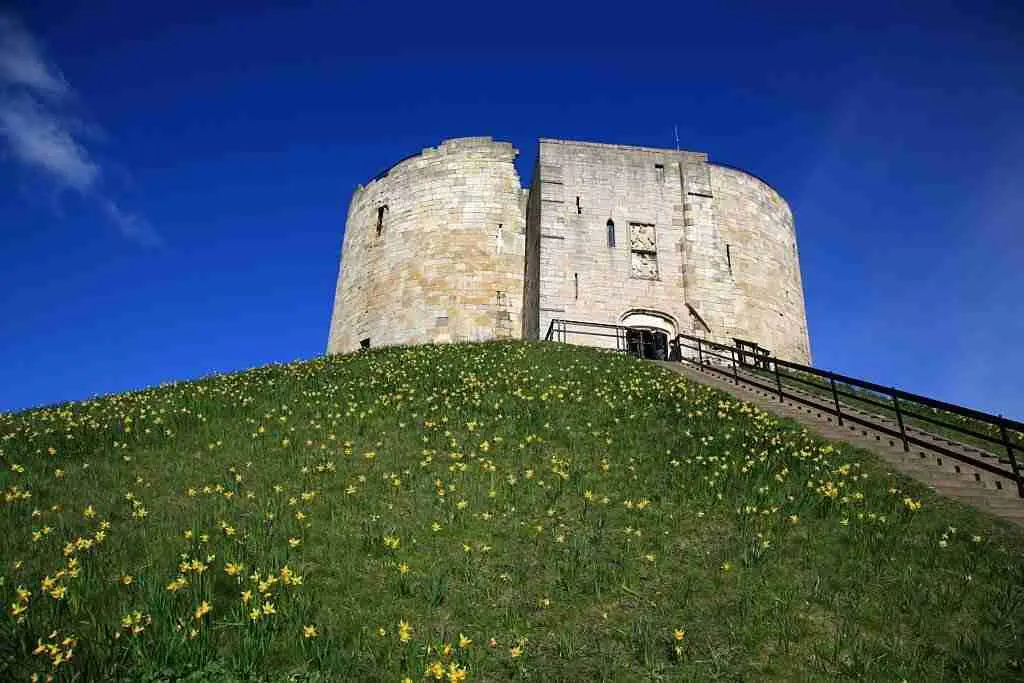 Price- £8.50
Throughout the centuries, Clifford's Tower has witnessed a diverse and eventful history. As the largest remaining part of York Castle, it has served as a royal mint, a medieval stronghold, and a prison.
However, it is also known for being the location of some of the most tragic moments in York's history, such as the devastating massacre of the Jewish community in 1190.
Despite its troubled past, Clifford's Tower remains a captivating destination worth visiting. Its hilltop location offers breath-taking views of York and the surrounding landscapes. It is also home to a number of exhibits that tell the story of York's history.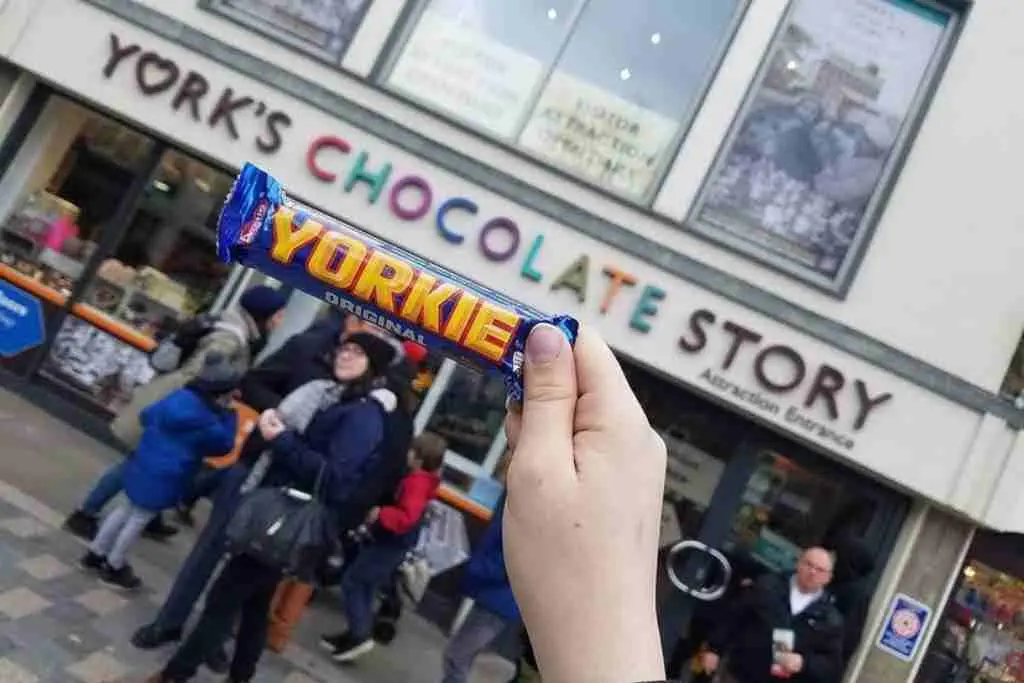 Price- £17.50 for adults
Chocolate lovers, this one is for you!
York chocolate story offers the opportunity to learn about the history of chocolate and the entire process of chocolate-making.
Exciting, isn't it?
During your visit, you will also get to know the different types of chocolate produced around the world and how they differ from each other. You can also taste some of the delicious chocolates produced on-site. This experience lasts for approximately one and a half hours; be sure to secure your spot in advance by booking online.
Price- £13 online / £16 Walk-up
Visiting York Castle Museum in York is an experience unlike any other. It provides an immersive look into the history of the city, showcasing various exhibits that highlight the rich culture and heritage of York. With its fascinating exhibits, interactive displays, and informative guides, visitors can explore the lives of the people who lived in York throughout the centuries.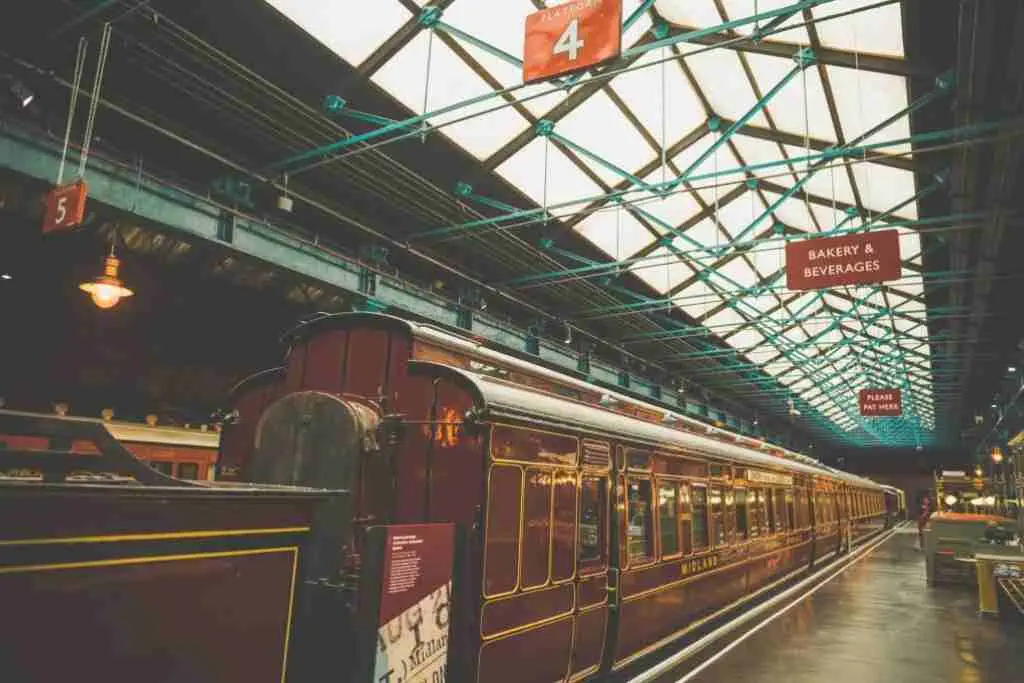 Price- Free
The National Railway Museum in York is a great place for anyone who loves trains, history or just wants to learn something new. It is home to a vast collection of railway vehicles, from the earliest steam locomotives to the latest high-speed trains.
The museum boasts an extensive collection of approximately 100 historic locomotive engines, which can take up to 90 minutes to explore. The staff's passion and dedication are evident throughout the exhibits, making it an enjoyable and informative experience for visitors of all ages.
Price- £16 for adults
This is a highly interactive museum that takes visitors on a journey back in time to the Viking Age. The highlight of this experience is a ride that takes you through a recreated Viking village where you can see and meet some people who lived during the Viking Age. You can also try on Viking clothing or even learn how to throw a Viking axe. The museum is open daily from 10 am to 5 pm, but ensure to visit the Jorvik website for additional information.
Would you like to take a language training course with us in York?
York Associates has been offering high-quality English language, business communication and international leadership and team training to professionals in the corporate, public and voluntary sectors for over forty years.
Our directors and trainers are renowned in the fields of English and international communication training, writers of award-winning publications and regular keynote speakers at language teaching and leadership conferences.
We look forward to welcoming you to York Associates very soon and supporting your continued learning and professional development. Click here to learn more about our courses.